To all those who have been itching for another Blog Walk post, your wait is finally over! Yes, that's right, Milton and I made the 21 mile trek up to Blaine in continuation of our efforts to walk/bike/hike every road in Whatcom County. Today's mission was to conquer our Blaine Quadrant 2 East map, which stretches from I-5 to Harvey road W-E and from Boblett to Sweet Road N-S.
I had high hopes as we left Bellingham. The day was clear and sunny. I imagined myself soaking in the rays while the soundtrack of Blaine's country livestock lowed around me. About Birch Bay-Lynden Road, reality hit me. Actually, a cloud bank thick as soup hit me.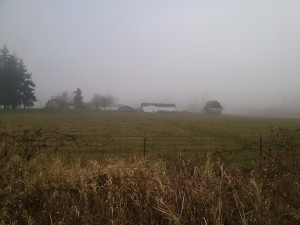 "Well, Milton," I said, "we'll just have to press on…and maybe reward ourselves with a mocha afterward." There's a little coffee shop downtown that I really love. It's called the Blackberry House. I would walk through miles of soggy dirt to know that a mocha from the Blackberry was waiting at the other end.
So we started out. And little drops of dew starting clinging to my clothes, but that didn't daunt our enthusiasm. Neither did the nagging sensation of having to pee or the gnawing hunger growing in my stomach after mile three rolled around. No matter. Milton was chipper as ever—that is until a cow appeared out of the mist right in front of him while a whole flock of previously unseen Canadian geese decided to bark orders above our heads.
His consolation came in finding a piece of old chicken on the side of the road, which he promptly gobbled up before I could yank him away.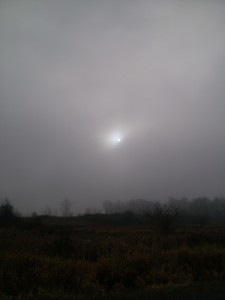 About mile 4.5, I cursed the sun's pathetic efforts to poke through the clouds and turned towards the car. But not before we completed the whole Quadrant 2 E map! That's right people. We are on to a new Quadrant. More exciting adventures to come.